Tech Tip: How to Assign Sequential Numbers to Variable Names for a Series of Objects
PRODUCT: 4D | VERSION: 6.5 | PLATFORM: Mac & Win
Published On: November 30, 2001
Your current browser may not allow you to download the asset. We recommend Mozilla Firefox or Google Chrome.
You may want to create several objects and name them in a sequence in order to easily use pointers to their names. To do so, you need to create one object which will be duplicated as many times as necessary. Once all the objects are created, select all of them and press CTRL + Alt (or Command + Option on Mac OS) while clicking the selection of objects.

The following dialog is then displayed: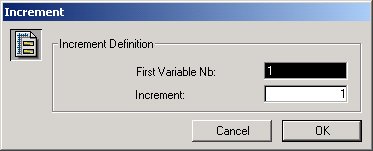 In this dialog, you just need to define the value of the number for the first variable and the value of the gap between two successive values. Once you click OK, the variable names are updated.