Tech Tip: Contextual Menu in the Method Editor
PRODUCT: 4D | VERSION: 6.8 | PLATFORM: Mac & Win
Published On: November 27, 2002
Your current browser may not allow you to download the asset. We recommend Mozilla Firefox or Google Chrome.

Starting in version 6.8, a pop-up contextual menu can now be displayed in the 4D method editor (Listing).
To display the menu, right-mouse click (under Windows) or Control+click (under MacOS) in the editor window: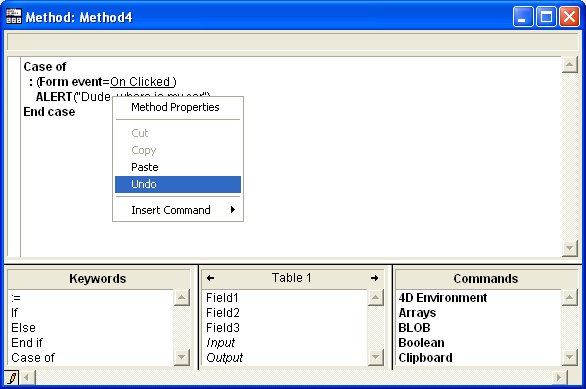 This menu allows you to directly access the Method properties and the Cut/Copy/Paste commands. The Insert command row causes a hierarchical sub-menu to appear, which lists all the 4D commands by theme. Also, you can insert a field or a method name using this menu (MacOS only).