Tech Tip: Type-Ahead in the method editor
PRODUCT: 4D | VERSION: 2003 | PLATFORM: Mac & Win
Published On: April 4, 2003
Your current browser may not allow you to download the asset. We recommend Mozilla Firefox or Google Chrome.
The method editor's new type-ahead feature allows users to select from a list of matching items In the method editor, simply type in a matching prefix of the command(s) you wanted to use and press the Tab key.

For example, to display a list of items matching "delet", enter "delet" and press the tab key to get the following pop up scrollable area: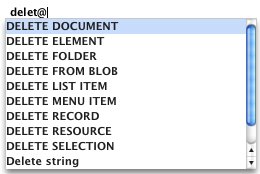 Selecting from any of the items, will replace the characters you have typed so far with that item
If only one item matches with the characters that you have typed, the pop-up will not be displayed and these characters will be replaced by this item.

Note: By item, we mean a 4D command, a method name, a constant name, a table name or a field name.