Tech Tip: A new option for defining shipping option
PRODUCT: 4D Business Kit | VERSION: 2.x | PLATFORM: Mac & Win
Published On: June 27, 2003
Your current browser may not allow you to download the asset. We recommend Mozilla Firefox or Google Chrome.
4D Business Kit version 2.0 introducted a new option for defining shipping charges to an order. This new option for shipping allows you to calculate the shipping prices based on a formula. The shipping options that are available in version 1.x have not changed for version 2.





Once you have a shipping option set based on a formula, you can enter a formula to use in calculating the price for this option. At the Behavior drop down menu, click on the question mark button near the middle right side of the dialog window.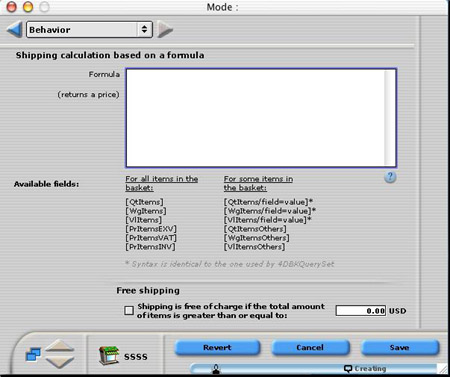 This will bring up another dialog window with helpful information regarding the correct syntax to use.