Tech Tip: Uninstalling a serial number
PRODUCT: 4D | VERSION: 2003 | PLATFORM: Mac & Win
Published On: September 4, 2003
Your current browser may not allow you to download the asset. We recommend Mozilla Firefox or Google Chrome.
In 4D version 2003, it is possible to uninstall a serial number.

To uninstall a serial number:

1 Choose the Update License... command in the 4D Help menu.
The license management dialog box appears.

2 Click on the serial number you want to uninstall, then click on Remove: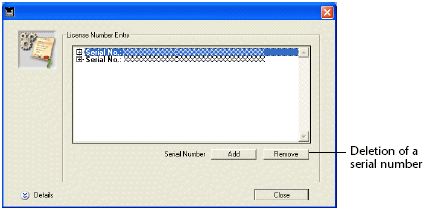 A confirmation dialog box appears. If you confirm your choice, the serial number is immediately deleted from the license management dialog box. Any Expansion Serial Numbers that are associated with the license
number are also deleted.

Note: It is not possible to delete Expansion Serial Numbers directly.