Tech Tip: Selecting a Table in the Design Environment
PRODUCT: 4D | VERSION: | PLATFORM: Mac & Win
Published On: October 10, 2003
Your current browser may not allow you to download the asset. We recommend Mozilla Firefox or Google Chrome.
Compatibility: version 6.7.x, 6.8.x and 2003

When you are in the Design environment and you want to quickly select or locate a table, you can always use the contextual menu of the structure window: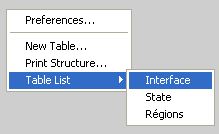 To select a table, simply right-click (Control + Click on Mac OS) on the background of the structure window and select the table from the Table List submenu.