Tech Tip: My plug-in area displays a serie of 0s and 1s
PRODUCT: 4D | VERSION: | PLATFORM: Mac & Win
Published On: November 6, 2003
Your current browser may not allow you to download the asset. We recommend Mozilla Firefox or Google Chrome.
When a plug-in area is displayed as depicted below in the form editor, what does it mean?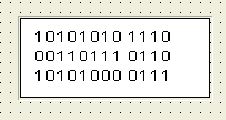 It simply means that 4D could not load the plug-in because the license is missing for that plug-in or it was removed from the Mac4dx/win4dx folder.