Tech Tip: Enabling realm-like features for your online store
PRODUCT: 4D Business Kit | VERSION: 2.x | PLATFORM: Mac & Win
Published On: April 1, 2004
Your current browser may not allow you to download the asset. We recommend Mozilla Firefox or Google Chrome.
If you want to restrict a certain part of your site to authorized personnel for the purpose of testing your site or simply keeping that portion of the site hidden from the public, you can set up an authenticating realm with 4D Business Kit.

First, you can create pages and store them to a specific folder that you want protected. Make sure these pages are in the current store folder. Once the pages are active, create a realm by going into the Tools menu and selecting "Restricted areas..." Enter the path to the protected folder. Create a username and password for this realm.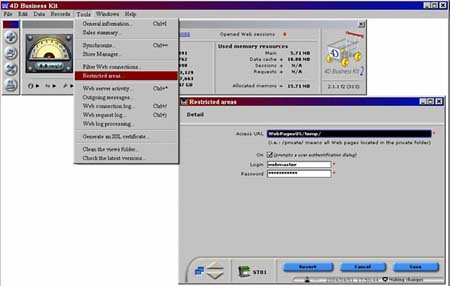 Save the settings and open a browser to test your realm.