Tech Tip: Assign Alternate Background Color to a List Box
PRODUCT: 4D | VERSION: 2004 | PLATFORM: Mac & Win
Published On: September 23, 2004
Your current browser may not allow you to download the asset. We recommend Mozilla Firefox or Google Chrome.
To assign an alternate background color to a List Box, you can follow these steps.

1. From the Form editor, select the List Box object.
2. From the Property List window, scroll down to the Background and Border settings and select a color for the Alternate Background Color setting.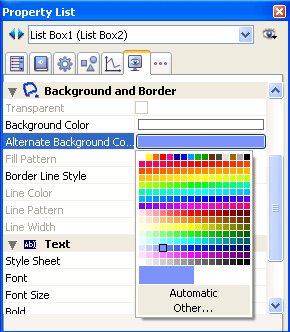 Here is what the List Box looks like before and after: