Tech Tip: Modifying the Font Attributes for the Comments in Explorer - 4D v6.5.x
PRODUCT: 4D | VERSION: 6.5 | PLATFORM: Mac & Win
Published On: March 17, 2000
Your current browser may not allow you to download the asset. We recommend Mozilla Firefox or Google Chrome.
When you use Explorer comments section, you can select another font, change the font size, style of the comments (bold or italic), modify its color, and even insert current user, current date or current time.

To modify the comment's font attributes:

1. Open Explorer

2. In the Comments area, select the text that you want to modify

3. On Windows: Click in the area with the right mouse button, on Mac OS: Control + click in the area.

A hierarchical pop-up menu appears: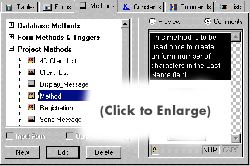 4. Now choose the font attributes that you want to apply to the text
Note: This modification only applies to the comments area in Explorer, not to comments added in the method itself.