Tech Tip: Configuring the Automatic Generation of Forms in 4D version 6.5.x
PRODUCT: 4D | VERSION: 6.5 | PLATFORM: Mac & Win
Published On: March 24, 2000
Your current browser may not allow you to download the asset. We recommend Mozilla Firefox or Google Chrome.
4D 6.5.x offers a new feature when you automatically generate forms. You can now configure the automatic creation of forms. When you create tables in Design mode and go to the User mode, 4D tells you that no form has been created for the new table and offers to create a default input and output form. You can modify this feature so that 4D doesn't display this alert dialog box

To configure the automatic creation of default forms:

1. Choose the Database Properties under file menu in design mode.

2. In the Database Properties dialog box, click on the "General" tab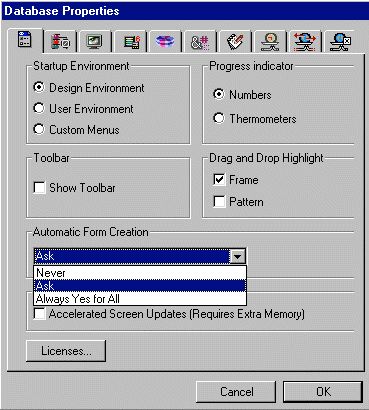 The "Automatic Form Creation" menu offers three options:

Never: the alert box does not appear and no default form is created allowing the designer to create his or her own.

Ask: (default option) the alert dialog box appears when no form for the table has been created, giving the designer the option to create their own forms.

Always Yes for All: the alert dialog box doesn't appear; default forms are automatically created for all the tables.

3. Select an option and accept the dialog box.