Tech Tip: Setting the drawing size for 4D Draw
PRODUCT: 4D Draw | VERSION: | PLATFORM: Mac & Win
Published On: June 9, 2000
Your current browser may not allow you to download the asset. We recommend Mozilla Firefox or Google Chrome.
The drawing area in 4D Draw ranges from 8.14 by 10.65 inches (1 page) to 108 by 108 inches (10 by 13 pages). The default drawing size is set to the minimum size of 1 page. If you want to change the size of the drawing area, select Layout then the Drawing Size option from the menu bar to display the Drawing Size window.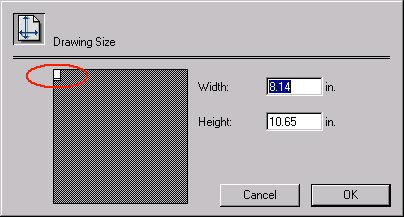 You can modify the number in the Width and Height fields or you can click and drag the drawing area (located inside the red circle) to your desired size.