Tech Tip: When do automatic buttons appear in an Input form?
PRODUCT: 4D | VERSION: 2004 | PLATFORM: Mac & Win
Published On: May 16, 2007
Your current browser may not allow you to download the asset. We recommend Mozilla Firefox or Google Chrome.
In the User environment, if a form is set to be the Input form for a table, 4D will automatically add buttons (accept, cancel, delete, next record, previous record) to the form if there are no button type objects included within it. Here is an example: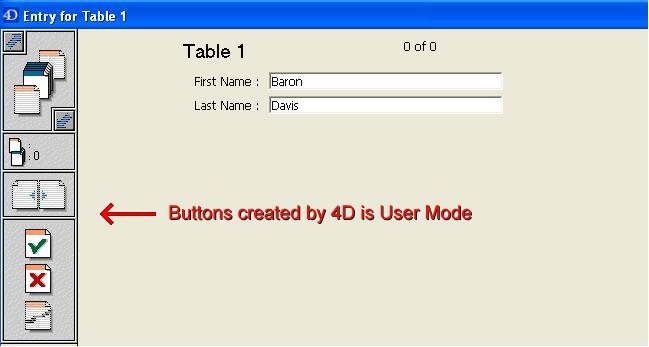 Along with the User environment, using the commands Modify Record, Modify Selection, and Display Selection to view the input form will also automatically display the buttons.

In addition, the presence of a List box or Subform object will prevent the automatic buttons from appearing. Thus, if you have a List Box or a Subform in your input form, 4D will not automatically display the buttons.