Tech Tip: Choose the Descriptive Field in an ImageMatrix
PRODUCT: 4D Web 2.0 Pack | VERSION: 1.1 | PLATFORM: Mac & Win
Published On: May 22, 2007
Your current browser may not allow you to download the asset. We recommend Mozilla Firefox or Google Chrome.
PLEASE NOTE: This Tech Tip applies to 4D Web 2.0 Pack version 1.1

An ImageMatrix is useful because records are represented with a single image and a descriptive text field.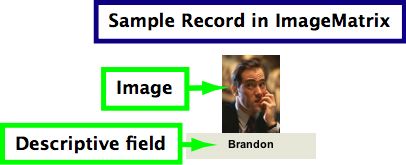 This TechTip reminds us that the Descriptive Field is an actual field from the table. To determine which field is used as the Descriptive Field in the ImageMatrix:


Go to Control Panel.
Select Access Control Tab.
Select the table that this ImageMatrix applies to.
Select the field you want as the Descriptive Field.
Enter '1' under the Position column for this field.
Assigning a field to Position '1' makes it the Descriptive text Field in an ImageMatrix.
For the latest information the 4D Ajax Framework please see the Daxipedia:
https://daxipedia.4d.com