Tech Tip: User Mode is now a part of Design Mode
PRODUCT: 4D Developer | VERSION: 11 | PLATFORM: Mac & Win
Published On: September 26, 2007
Your current browser may not allow you to download the asset. We recommend Mozilla Firefox or Google Chrome.
The User Mode from version 2004 and earlier has been absorbed into the Design Mode in 4D v11 SQL, and the Custom Menus Mode selection has been renamed to Test Application. This means you only have 2 modes to switch between.

From the Design mode, go to Run->Test Application to get into Application mode:




From the Application mode, go to Mode->Design to revert back to Design mode: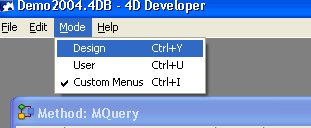 You still have access to your tables in old User Mode fashion by pressing Ctrl+U (Windows) or Cmd+U (Mac OS), but you will still be in the Design Mode environment.