Tech Tip: Built-in 4D 6.5 diagnostic checks structure files
PRODUCT: 4D | VERSION: | PLATFORM:
Published On: May 21, 1999
Your current browser may not allow you to download the asset. We recommend Mozilla Firefox or Google Chrome.
The stand-alone version of 4D 6.5 includes the ability to perform a diagnostic check of the structure file when you open a database. When you start 4D 6.5, you are presented with the "Open Database" dialog: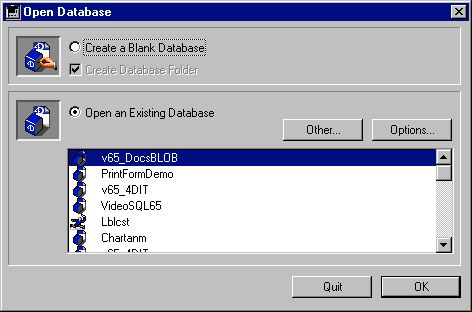 If you use the option to "Open an Existing Database," you can select a database from the dialog's list of your most recently accessed databases. After highlighting the name of one of the databases in the list, you can click the "Options..." button. This opens a new dialog that displays the path to the structure file and data file to be opened: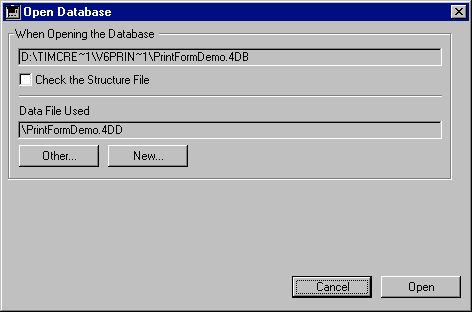 You can click the "Other..." button in this dialog to select a different data file to open with the structure, or you can click the "New..." button to create a new data file for this structure.

If you check the "Check the Structure File" checkbox, then click the "Open" button, 4D will perform a diagnostic check of your structure.

Alternately, from the main "Open Database" dialog, you can click the "Other..." button to display a dialog from which you can open a database that isn't in the list of recently used databases. From that dialog, you can activate the structure checking feature by holding down the Ctrl and Alt keys (Windows) or the Control and Command keys (Macintosh) while clicking that dialog's Open button.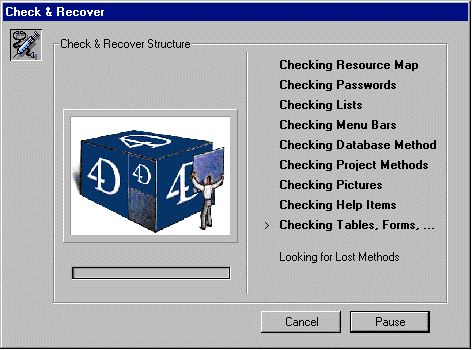 When the tests are completed, the results are displayed: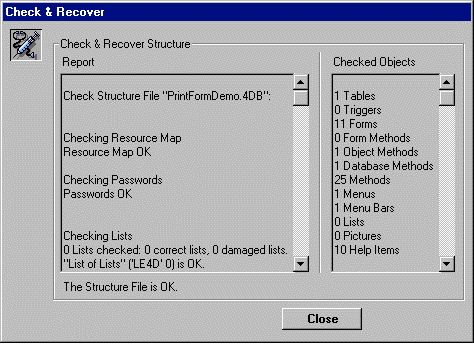 Objects that are tested to see if they are correct or damaged include:



Resource Map

Passwords

Lists

Menus

Menu Bars

Database Methods

Project Methods

Pictures

Help Items

Tables

Triggers

Forms

Form Methods

Object Methods

List of Table Names

List of Tables

Pictures

The diagnostic also shows you the Used Space Ratio of your structure.
All this information is saved in the "Journal.TXT" file created in the same folder as your structure.
In 4D Tools 6.5, you can use the "Check Structure" feature, which performs a more thorough test that can include these additional items:


Bits Table

Allocation Map

Resource ID

List of Lists

Lost Lists

List of Menu Bars

Lost Menus

Lost Menu Bars

List of Database Methods

List of Project Methods

List of Pictures

Lost Pictures

List of Help Items

Lost Help Items

Lost Table Markers

List of Lost Forms

Lost Forms

Lost Methods