Tech Tip: Changing the entry order on a form
PRODUCT: 4D | VERSION: | PLATFORM: Mac & Win
Published On: September 15, 2000
Your current browser may not allow you to download the asset. We recommend Mozilla Firefox or Google Chrome.
Suppose your input form looks like the following picture.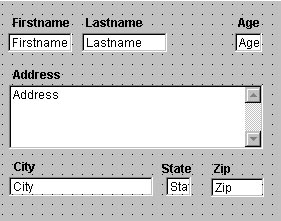 The default setting for this form allows you to tab in and out of the field starting from Firstname to Lastname, from Lastname to Address, from Address to City, from City to State, from State to Zip and from Zip to Age. It would be nice to be able to tab from Lastname to Age and from Age to Address.
Use the following procedures the change the tab or the entry order:

- Go to the Design Environment and open the form editor.

- Select Entry Order from the Form menu or select the Entry Order button from the Tools Palette.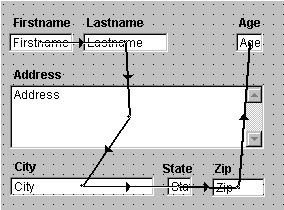 - To change the Entry order, simply drag an arrow from the starting point to the new destination. The following is the result of dragging an arrow from "Lastname" to "Age".