Tech Tip: 4D For iOS is Reliant on Related Softwares' Versions
PRODUCT: 4D | VERSION: 17 R | PLATFORM: Mac & Win
Published On: June 27, 2019
4D for iOS is a feature that is being previewed in the R-releases. Because the feature is reliant on the Mac ecosystem, different versions of 4D will require the related Mac software to be on a compatible version for use.

The following page contains a Version comparison table for what the version of the related software is compatible with which version of 4D is being used.
https://developer.4d.com/4d-for-ios/docs/en/prerequisites.html

The table is updated as of v17R5: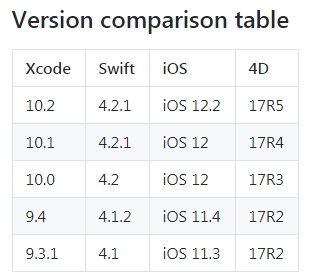 As shown 4D v17R5 will need Xcode 10.2 which will require macOS 10.14 to install.

So if this feature is being used, before going to the next version make sure that all of the other software is able to upgrade to the required version needed.