Tech Tip: Utilizing User Database Settings
PRODUCT: 4D | VERSION: 19 | PLATFORM: Mac & Win
Published On: January 9, 2023
A feature of 4D is the ability to enable the use of User Database Settings.

By default, this feature is not enabled, and the database settings are integrated with the database structure itself. This is more prominent in Binary and Compiled Project mode databases where the database settings are not accessable due to this.

When the feature is enabled, various database settings are no longer stored at the integrated location and can be stored next to the datafile or structure. This feature is suggested when there are multiple copies of the database such as a development and a production copy of the database and the settings may vary based on the copy or even the datafile.

The feature can be enabled from the Database Settings > Security Section under the Options area: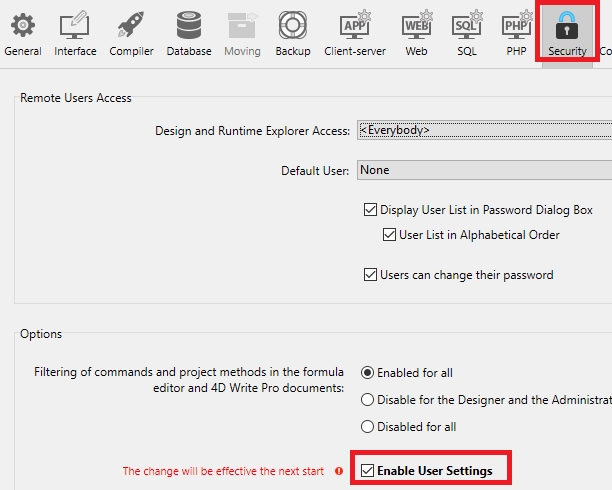 This will allow settings to be applied based on the use, for example the backup settings applied for the production copy do not need to be applied to the development copy and the ip addresses and port numbers on the production copy may differ from the development copy.