Tech Tip: How to check for obsolete plugins
PRODUCT: 4D | VERSION: 19 | PLATFORM: Mac & Win
Published On: May 8, 2023
Obsolete plugins often occurs during an upgrade to a newer version of 4D. It can be tricky to spot at times since the obsolete plugin calls will still pass through Compilation without any errors, but will return a runtime error when the plugin commands are actually called. To quickly check, navigate to Explorer > Plugins and look to see whether any plugins are disabled.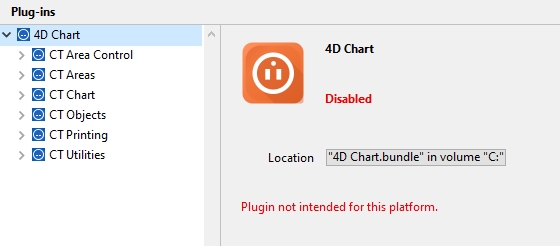 If the plugin is disabled, it is either due to:

1. Plugin is no longer supported for that version of 4D.
2. Plugin is outdated and needs to be upgraded to the latest plugin version.
3. Plugin is not signed and notarized (MacOS only).